Hamburger Soup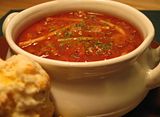 1 pound Ground Beef
1 large Onion, chopped
2 cloves Garlic, minced
1 1/2 cups thinly sliced Carrots
1 1/2 cups thinly sliced Celery
1/4 teaspoon dried Thyme
4 cups diced Tomatoes
1 cup Tomato Sauce
4 cups Beef Broth
1/2 cup broken Spaghetti
Chopped fresh Parsley
Cook beef, onion, garlic, carrots and celery in a large frying pan or soup pot over medium-high heat until meat is thoroughly cooked, stirring frequently; drain off any fat. Stir in thyme, tomatoes, tomato sauce, and broth. Bring to a boil. Reduce heat and simmer for about 90 minutes or so.
Stir in spaghetti; simmer until pasta is tender, 10 to 15 minutes. Serve garnished with parsley.
Cheese Biscuits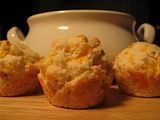 2 cups Flour
4 teaspoons Baking Powder
1 teaspoon Salt
1/2 cup Butter
3/4 cup Milk
1/2 teaspoon dry Mustard
1 cup shredded Cheddar Cheese
In a medium bowl, combine flour, baking powder and salt and dry mustard; cut in butter until mixture resembles coarse crumbs. Add shredded cheddar cheese then add milk, stirring with a fork to make a soft, slightly sticky dough. Gently knead on a lightly floured surface 10 times. Roll out to 1/2-inch thickness; cut into eight 2 inch rounds using a biscuit cutter. Place on an ungreased baking sheet, slightly apart. Bake in a preheated 425 degree F oven until lightly browned, about 10 to 12 minutes.
Enjoy! Thanks; Virginia